Return to Blog
---
3 Dollar USB Capture Device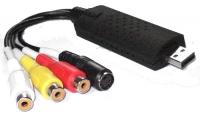 While supplies last, you have a chance for a deal you simply cannot beat anywhere. You can get a USB capture device for less than 3 dollars. Look on Amazon, eBay, or anywhere else and it will cost more.

This is perfect for when you want to get a video source to record onto your computer. The camera connects the capture device and then plugs into your computer USB port. Press record on the included software and it will record that video to your computer. It is simple, short, and sweet.

Click the link below to learn more about this great product or to order at the price you have to see to believe.

---