Return to Blog
---
Digital Wireless Infrared Camera with Audio Now Available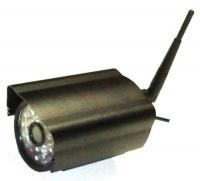 We often get asked what kind of cameras do we have with audio. We also get asked often what kind of cameras we have with built-in wireless transmission. Now, we have a product that fits the exact bill people are asking about.

New Wireless Infrared Camera with Audio

This brand new camera has infrared, audio, and digital wireless transmission built right in. All you need to do is plug the camera in and connect the included receiver to your TV or DVR. You will then get crystal clear video and audio. And, the wireless is digital which provides you with the best possible picture and virtually eliminates interference.

Built-in Digital Wireless

This camera features 100% digital wireless technology. This means that you will get better quality pictures at longer distances and without interference. It is the best way to go.

Powerful Infrared

See great in the light and the dark with this camera's powerful infrared LEDs.

Great Audio

Not only will you get a great picture with the camera, you will also get great audio as well.

In a Class All Its Own

The features in this camera cannot be matched. The crystal clear color video, built-in digital wireless, infrared technology, and audio make this camera something that simply cannot be beat.

To learn more about it visit the product link below.

---