Return to Blog
---
What Matters In A CCTV Camera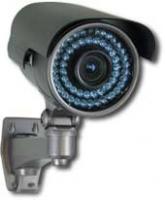 With so many CCTV cameras on the market these days how can you be sure of choosing the right one?

The first step is to decide which of these three main types of cameras will best suit your purpose:

Box cameras - also known as fixed cameras - are probably the most common type used in CCTV systems. They can be set up to constantly monitor one particular area of your home or business premises, and can be made highly visible if you want them to act as a deterrent to burglars, vandals or shoplifters.

CCTV domes - house movable cameras that can rotate and tilt up and down to cover a larger area than fixed cameras. The movements can be set automatically or be controlled by an operator. Some are also fitted with a zoom lens so they can provide wide-angle or close-up images when needed.

Bullet cameras - weatherproof and can be used indoors or outdoors. Infrared versions are available for amazing low light viewing.

When you know what type of camera you want, you can begin to compare different models. In general, very cheap cameras will not perform as well as the more expensive, but price alone isn't always an accurate indicator of quality.

If you want a camera that produces good quality images look for one that has a CCD (Charge Couple Device) chip and check its size. The smallest CCD chip (¼ inch) will produce a good image, but a ½ inch chip will usually give a better one.

Unless you only intend to use the camera in a well-lit area, another important thing to check is a camera's light sensitivity. How well will it perform at night? You can gauge this from the camera's Lux level. The lower the Lux level, the better the camera will work in low light conditions. The best low light viewing will have infrared leds.

Once the camera has captured the images you will want to view them, and the sharper those images the better they will appear on your monitor. The number of available TV lines determine the sharpness of an image so if you want to be sure of seeing all the details look for a camera with a minimum of 420 TV lines. For the highest quality images choose 540 TV lines, or even more.

The best camera is one that perfectly meets all your needs, so get the most up-to-date advice from one of our CCTV experts who are familiar with all the facts and figures.

Call us toll free at 866-720-0779 to speak with one of our knowledgeable and friendly CCTV experts.

---