Return to Blog
---
4 Channel Realtime H264 DVR Card For Less Than 140 Dollars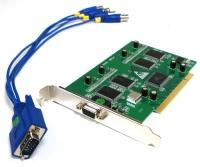 Our 4 Channel DVR card can be yours for less than $140. This card has 4 channels, realtime (30fps per camera), H.264 encoding, internet viewing and more. It has all the features of a very expensive card without the price tag.

This is by far our most popular DVR card. Simply insert it into a vacant PCI slot on your computer, load the included software, and you're good to go. No complicated settings. No bloated software. It is just a simple, easy to use, full featured DVR card.

If you are looking for an affordable DVR card, then the Advance DVR card is what you have been looking for. Some sites will charge twice as much for a card with the EXACT same features.

It is a great time to start your surveillance or upgrade an old system. With prices like this, it has never been a better time to give Advance Security a call.

---