Return to Blog
---
Try Our New Product Browser To Find Exactly What You Are Looking For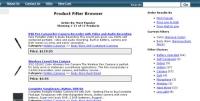 While we strive to make our website easy to navigate and find what you're looking for, we fully realize that different things make sense to different people. This is why in addition to our normal navigation through categories, we also have implemented a Product Browser. You'll notice this at the top of the navigation bar at the top left of every page listed as "Show All Products". This browser allows you to sort our products by price or popularity. It also lets you filter and drill down the results to find what you're looking for.

Find What You're Looking For More Easily

Once you click on the "Show All Products" link, you'll see our entire catalog of products, showing the most popular products first. You can then click on the "Order By" links to show the lowest prices first, the highest prices first, or the most popular products first (default view).

Narrow Down Your Results

You'll also see on the right side of the page the links to "drill down" the view to narrow your selections down. Drill down more and more to find exactly what you're looking for. Click on "Camera", then "Color", then "Infrared", and it will show the products that meet all of those requirements.

More Efficient Navigation

You're more than welcome to use our normal categorical view on the left side of all the pages. But we encourage you to at least try the Product Browser to see if you like it. Once you get the hang of it, you just might start using it all of the time.


---