Return to Blog
---
USB DVR Lets Any Windows Computer Become a Security DVR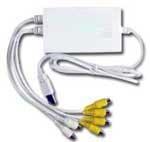 If you've ever wanted a Security DVR for an affordable price but want to use something plug and play, like USB, then we have the product for you. Our laptop DVR gives you the benefits of a DVR with the ease of installation of USB.

Record Up to 4 Cameras Using Your USB Port

The laptop DVR is 4 camera capable. You can connect up to 4 cameras to it and record from all of them. You can also view them live all on the same screen.

Connects to USB Port on Laptop, Notebook, or Desktop Computer

The DVR connects to a USB port. This means you don't have to open your computer and you can easily use this DVR on ANY windows based computer (laptop, notebook, or Desktop).

Record On Motion Detection

You can set the cameras to record on motion detection. This allows the DVR to record only when something is happening.

View Your Cameras Over the Internet

Using the included software, you can easily view you cameras over the internet from anywhere else in the world.

Learn more about the DVR by following the link below.

---