Return to Blog
---
Turn Any Camera Into a Wireless IP Camera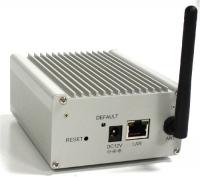 Incredibly Easy Wireless Cameras Without Interference
Our Wireless IP Server allows you to effortlessly turn any camera into a wireless IP camera. This will give you a better picture, less interference, longer range, and more portability than with other wireless camera solutions.

Utilize Your Existing Wireless Internet
Our Wireless IP servers have no interference issues. They use your wireless router to give you a crystal clear picture with zero interference.

Clear Pictures With No Interference
The wireless IP server works with your existing wireless internet to transmit your camera signals. This results in a crystal clear video anywhere in your wireless internet coverage.

Learn more about our Wireless IP Servers by clicking the link below.

---