Return to Blog
---
Introducing Our Brand New Mirror Camera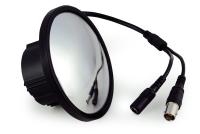 We are happy to announce a brand new product from Advance Security - The Mirror Camera.

The mirror camera is a high resolution hidden camera hidden inconspicuously behind a convex mirror. This is ideal for small businesses. The mirror gives you an easy way to around a corner or down an aisle and the camera gives you an easy way to view or record that area.

Special 2 way glass enables the outside of the mirror to look and function exactly like a normal mirror would. The other side of the glass is transparent and lets the camera easily see out. This functions much like police mirrors where one side can see through and the other side only sees a mirror.

This camera is perfect for gas station owners, small business owners, factories, and more. The mirror blends in anywhere.

Learn more about our brand new mirror camera by visiting the link below.

---