Return to Blog
---
Spy Microphone For a Great Price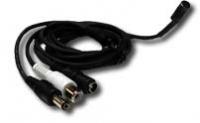 Our SSC-1116 microphone is a small, powerful, line level microphone that is good for just about any usage. Couple this with its great price, and you have a winning combination.

Small Size

The tip of the microphone is roughly 1/8". This small size can be hidden just about anywhere.

Very Sensitive

The microphone can pick up a normal conversation 15-20 feet away. One microphone easily covers a typical room.

Power Via AC Power Supply or Batteries

Connect the mic using the included AC power supply for indefinite usage. Or, power it with a normal 9 volt battery for up to 500 hours of use.

Connect It To Just About Anything

The mic has an RCA jack for audio output. This can connect to your TV, DVR, VCR, etc.

Learn more about our microphone and how to add a microphone to your surveillance by clicking the link below.

---