Return to Blog
---
Turn Any Camera Into a Wireless IP Camera With Our IP Server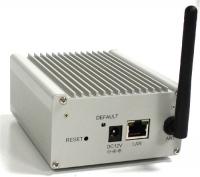 Turn Any Camera Into a Wireless IP Camera

Our Wireless IP Server has a jack on it to connect to any analog camera. Simply connect any camera with an RCA or BNC jack to it to turn it into a wireless IP camera. The included software lets you view, record, motion detection record, and view over the internet from anywhere else in the world.

Record To Your Computer On Motion Detection

Use the included software to record video to your computer. Easily set it to record on motion detection. When on motion detection recording, it will simply record video or snapshots to your computer when it detects movement on the camera. You can connect any camera with a BNC or RCA jack to it.

View Your Camera Over the Internet From Anywhere Else In The World

The included software lets you view your camera from anywhere else in the world using the internet. You can use up to 64 of these at a time. View all your cameras at one time, motion detection record from them, and more. Our IP Server can do just about anything.

Better Functionality and Better Prices Than Other IP Servers

Our IP servers have the best price and best functions around. Why spend hundreds more for something that can't do as much as ours? IP servers from other companies may cost hundreds more and not even have the wireless functionality.

If You Can Find a Better Wireless IP Server, Buy It

We are so confident in our Wireless IP Server that we encourage you to shop around. Look around the internet for other wireless IP servers that you can connect any camera to. If you find any others, you are lucky. If you find any others that don't cost several hundred dollars more, you are very lucky. This is the best Wireless IP Server around at the best price.

Learn more about our Wireless IP Server by clicking the link below.



---