Return to Blog
---
Mini CCTV Monitor Offers Small Size and Portability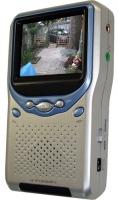 Our handheld LCD monitor is the perfect monitor for CCTV installers. If you need a small battery operated monitor that you can use to verify that cameras are in fact seeing what they're supposed to be seeing, then this monitor is for you.

Small Handheld Operation

This monitor is quite small and will easily fit in the typical adult hand. It also has a built in stand if you need hands-free operation.

Sharp Color Picture

Monitor has a 2.5" color LCD screen. This offers you a clear, sharp, color picture. Don't try to setup color cameras with a b/w monitor any longer.

Battery Operated

You need easy portability, and you have battery operation for that. You don't want to have to plug something in. This monitor runs on 4 AAA batteries.

Works with Any Camera

Connect just about any CCTV camera to this monitor. Any composite signal (RCA, BNC, etc) can easily be plugged into this monitor with the included adapters.

Learn more about the monitor by following the link below.

---